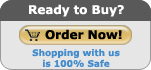 Deliver answers online
FAQ Manager is the incredibly powerful and cost effective customer support system for reducing your costs, increasing customer satisfaction and boosting your sales by empowering your customers to get the answers they need when they need them by themselves!

Customer Support service on Demand!
The FAQ Manager is a feature packed Frequently Asked Questions management system that allows you to offer your customers an easy way to automatically get answers to their specific questions on-line 24 hours a day, 7 days a week.
Your customers will get the information they need when they want it and within the context of your site. This, prevents your customers from leaving your site when they have questions, and cannot readily find answers.

Top features and Benefits
What makes FAQ Manager stand out of the crowd when it comes to choosing a FAQ Management and automated customer service tool for your web site? Aside from its ease to use and no frills integration, here are just some of the top reasons why our product is your best choice for delivering answers online automatically to your customer's most frequently asked questions :
Reduce your support costs
Eliminate redundant support phone calls and e-mails. With FAQ Manager you will reduce your expenditures in customer service by allowing your customers to help themselves and get the information they need.
Increase Customer Satisfaction
Your customers will get instant answers to their questions, directly from your web site. They won't have to call your company or send you an e-mail and wait for a reply!
The more the system is used, the more powerful it gets
If a customer does not find the answer he's looking for, he can submit it to you. When you answer the question, you can automatically add it to the knowledge base thus ensuring that the next customer with the same question will receive an instant answer!, the longer the use of the system, the greater the number of instant answers available!
Gather Valuable Customer Knowledge
With the FAQ Manager, you can easily find out what your customers need by providing them with an easy and powerful communication channel with your company!
Natural Language Support
FAQ Manager comes with a powerful search feature that allows your customers to query its database using natural language phrases and keywords. They just type their questions to get instant answers!
Plus Much More!
FAQ Manager is a complete FAQ Management system and an incredibly affordable customer support system. It comes packed with everything you need to deliver great support on your web site. Its unique self-service approach, makes it the perfect tool for delivering answers online to your customers just when they need it most!