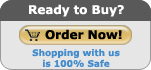 Introducing FAQ Manager .NET
FAQ Manager .NET is a state of the art FAQ and Knowledge Base Management system that will allow you to create an online archive of frequently asked questions that your customers can consult at any time to get the answers they need when they need them.

Put Your Customer Support on Auto-Pilot
That's right. FAQ Manager will provide your customers with a poweful system for automatically get answers to their questions right from your site 24 hours a day, 7 days a week. This, will reduce your costs, increase your customer satisfaction and will boost your sales by empowering your customers to get the information they need when they want it and within the context of your site. All by themselves!

Top features and Benefits
What makes FAQ Manager .NET stand out of the crowd when it comes to choosing a FAQ and Knowledge Base Management system and automated customer service application for your web site? Aside from its ease to use and no frills integration, here are some of the top reasons why our product is your best choice for delivering answers online automatically to your customer's inquiries :
Reduce Support Costs / Increase Customers Satisfaction
Your customers won't have to call your company or send you an e-mail to get an answer to their questions!. Deliver Customer Support online 24 hours / 7 days a week without the need of a dedicated help-desk staff.
Automatic Knowledge base
If a customer does not find an answer to his question, he can forward it to you. Once the answered it can be automatically added to the knowledge base thus ensuring that the next customer with the same question will receive an instant answer! The more the FAQ Manager is used, the more powerful it will get!
Developed using ASP.NET 2.0
FAQ Manager has been developed using Microsoft's next-generation .NET platform which provides the highest level of scalability and reliability for web based applications today.
Supports Unlimited Users and Topics
Unlike other support systems, There are no built in limitations for the number of users that you can have to work with your Knowledge base. You can get your entire staff to work with the application without having to purchase additional licenses!
Natural Language Support Search
FAQ Manager comes packed with a powerful search engine that allows your customers to query its knowledge base using natural language phrases and keywords. They just have to type their questions to get instant answers from the system!
RSS Syndication
FAQ Manager lets you syndicate your FAQs and Articles through RSS. Your customers can get the latest updates from your knowledge base directly into ther RSS Newsreaders!
Plus Much More!
Make no mistake, FAQ Manager is an application that will pay by itself, Its unique self-service and self-support approach makes it the perfect tool for providing answers online to your customers just when they need it most!.
By providing an automated knowledge base of your frequently asked questions that evolves according to your customer requirements, your users will be able to provide support by themselves 24/7 with minimum interaction from your part, increasing your customer satisfaction and decreasing your support costs.