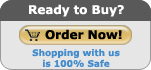 Introducing The Newsletter .NET 5.1
The Newsletter .NET is a powerful Newsletter Publishing and E-mail Marketing software that will allow you to easily design HTML and text based newsletters, and deliver personalized emails to your target audiences through mailing lists.
Newsletters are one of the most powerful and cost effective marketing tools today and the Newsletter system comes packed with everything you need to get the most out of this powerful marketing channel. This is the perfect solution for small and medium size sites looking to boost their revenues by getting the most out of an e-mail newsletter!

Top features and Benefits
What makes Newsletter stand out of the crowd when it comes to choosing a E-mail marketing and Newsletter Management software for your site?, Aside from its great benefits and features, here are some of the top reasons why our product is your best choice for delivering personalized newsletters and e-mails to your subscribers :
Unlimited Subscribers and Mailing Lists
Unlike other newsletter management systems, there are no built in limitations for the number of subscribers and mailing lists that you can have. You can have as many lists and subscribers as your server can handle!
Automated Handling for Bounced Messages
Newsletter can automatically handle any bounced messages resulting from the broadcasting of your newsletters. You can even set the number of bounces for each user before removing it from your lists!
E-mail Personalization
Use data merging options to send personalized e-mails to your subscribers. You can even have up to 5 custom fields to collect information about your users!
Mail Scheduler
Newsletter comes packed with a client program that you can set up on your server to check for queued newsletters and send them automatically on their release date.
Compose HTML Newsletters
Easily Create HTML newsletters using the powerful built-in Word-Like HTML editor. You can attach any number of files and images to your eZines. Plus create text versions of your newsletters by just clicking a single button!
Subscription Form Generator
Create your subscription forms using the buil-int Form Generator. Newsletter provides you with all the code to paste on your web pages which you can easily customize to suit your needs and using your favorite HTML editor!
Developed using ASP.NET 2.0
Newsletter has been developed using Microsoft's next-generation .NET platform which provides the highest level of scalability and reliability for web based applications today.
Plus Much More!
Newsletter is cost effective and easy-to-use newsletter and mailing list manager with powerful personalization and customization capabilities and it is an application that pays by itself : By letting you maintaining and administer your own newsletter, you'll be opening a whole new world of marketing possibilities that will pay back and provide you with an almost immediate return on investment.